Advanced Pistol


Training Course
---



CLASS DESCRIPTION
The next training progression for students who have completed Intermediate Defensive Pistol or an equivalent course. Students will refine their shooting accuracy, recoil control and speed, and further develop their tactical mindset. We'll emphasize maximizing the use of cover, shooting on the move and engaging threats that present from different directions.
Our instructors are active-duty/retired law enforcement officers/trainers with extensive teaching experience in civilian and L.E. communities. We guarantee low student - instructor ratios (four-to-one maximum) to enhance safety, quality of instruction and individual attention.
Required Ammo & Equipment: 400 rounds, a quality semi-automatic pistol, at least three magazines, strong side outside-waistband (OWB) holster (no Blackhawk Serpas), belt pouches for minimum of two mags, sturdy belt and personal eye/ear protection.
Required Prerequisite Training: Basic Defensive Pistol or the equivalent.
Topics Covered
Include
Reloading Review—Combat & Tactical Magazine Exchange, Supporting Fire During Reloads.

Cover Awareness—Maximizing Cover Advantage—Varying Shooting Techniques/Positions.

Fun Practical Combat Shooting Drills Incorporating the Above Listed Techniques.

Tactical Decision Making—Shoot/Don't Shoot Scenarios, Other Tactical Options.

Marksmanship Review, Manipulation Techniques and Presentation From Holster.

Immediate Action Drill Review—Failures to Feed, Fire, Extract, and Eject.

Shooting on the Move — Advancing, Withdrawing, Oblique Movement.

Movement—Megotiating a Tactical Environment, Shoot and Move.

Turns to Contact—Contact Right, Left, and Rear.

Firearms Safety Rules—On and Off The Range.

Transitions to Supporting Hand.
THIS IS NOT AN NRA-APPROVED COURSE.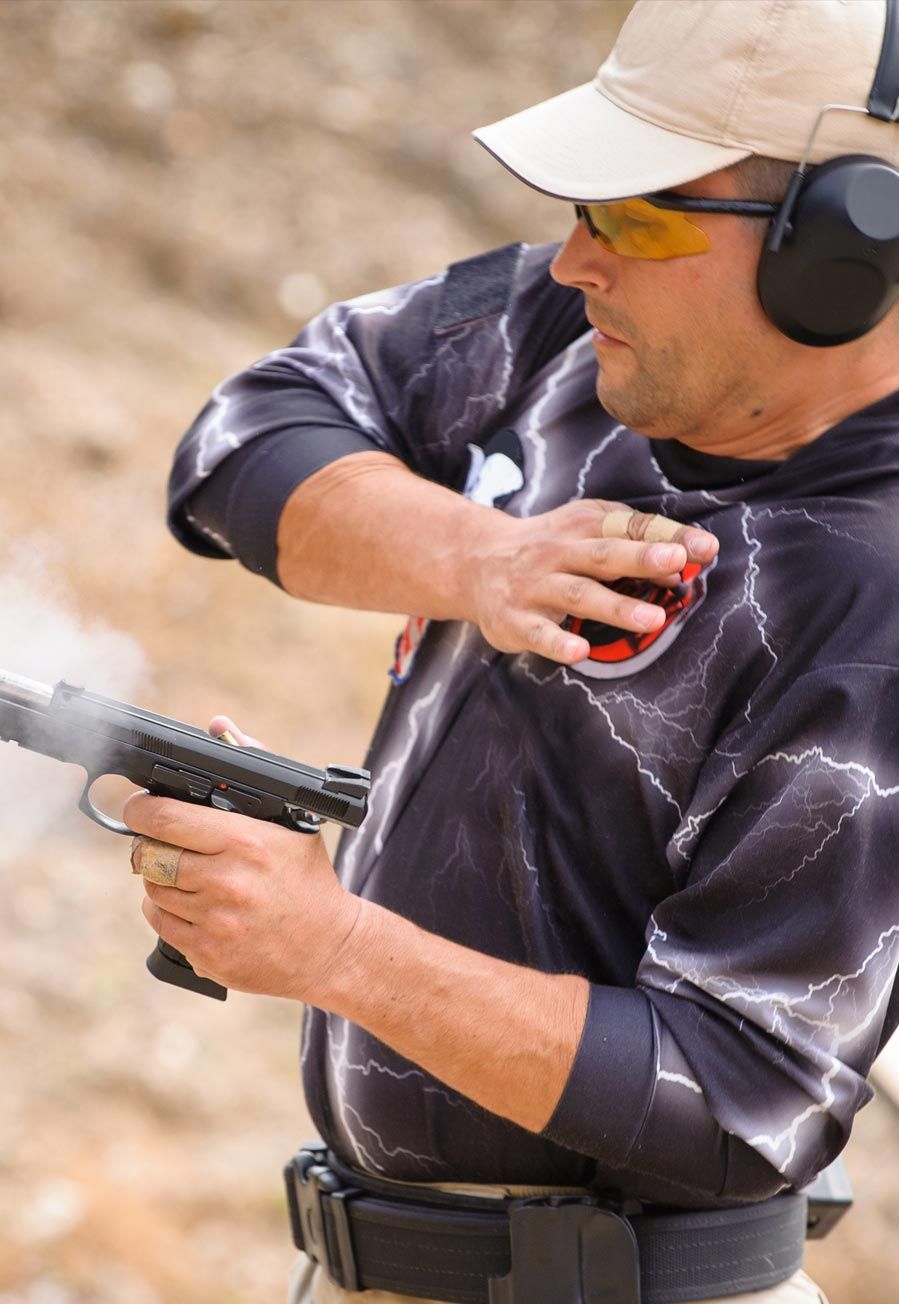 Advanced Firearm Training Courses